John Cooke, MD, PhD
Dr. Cooke's research focuses on restoration or stimulation of endothelial functions such as vasodilation and angiogenesis, using small molecules or stem cell therapies. Recent insights from the laboratory have clarified the role of innate immune signaling in nuclear reprogramming to pluripotency and therapeutic transdifferentiation for vascular disease.
Longhou Fang, PhD
Dr. Fang's laboratory focuses on the role of apoA-I binding protein (AIBP) in lipid metabolism, angiogenesis and lymphangiogenesis under pathophysiological conditions. This includes identifying its molecular mechanism and unravelling the roles of AIBP in heart hypertrophy, heart ischemia and reperfusion, peripheral artery ischemia and reperfusion, corneal angiogenesis, wound healing, tumorigenesis as well as heart regeneration in preclinical models.
View Dr. Fang's seminar to learn more about his research.
Kaifu Chen, PhD
Dr. Chen's laboratory focuses on computational epigenetics. Specifically they are focused on: (1) combining bioinformatics innovations with new sequencing technologies to make novel observations or to answer new biological questions; (2) understanding gene regulation networks that determine cell identity and tissue specificity in development; (3) discovering driver genes of cancer, genetic disease, or other important phenotypes. The overall goal of his research is to develop machine learning algorithms to combine epigenetic and genetic data for disease gene discovery, and to reveal the functional mechanisms underlying each discovery using molecular, cellular, and animal models."
Nhat Tu Le, PhD
The Le's research group is interested in molecular mechanisms by which disturbed blood flow causes endothelial cell inflammation, dysfunction, apoptosis, and atherosclerotic plaque formation. Dr. Le and colleagues have developed both in vitro and in vivo systems to address this topic, and has identified a crucial role for the p90RSK-ERK5 kinase complex in this process. Dr. Le and colleagues have also discovered the formation of a pro-inflammatory and pro-senescence complex comprising p90RSK, a member of the shelterin complex, and p65. In addition, the role of endothelial ERK5 kinase in the regulation of statin-induced anti-inflammatory effect was also demonstrated using murine heart transplantation model. Recently, Dr. Le and colleagues have identified that a membrane-associated guanylate kinase-1 (MAGI1) is an unexplored molecule that regulates both endothelial inflammation and anti-viral response.
Besides the significant improvement in patient survival rate, modern cancer therapies including chemotherapy, immunotherapy, radiotherapy, targeted therapy, and surgery cause not only cardio-toxicity but also vascular complications such as angina (spasm), myocardial infarction, venous or arterial thrombosis, and newly developed or worsened hypertension. The Le's research group is also interested in understand how cancer therapies mediates vascular complications.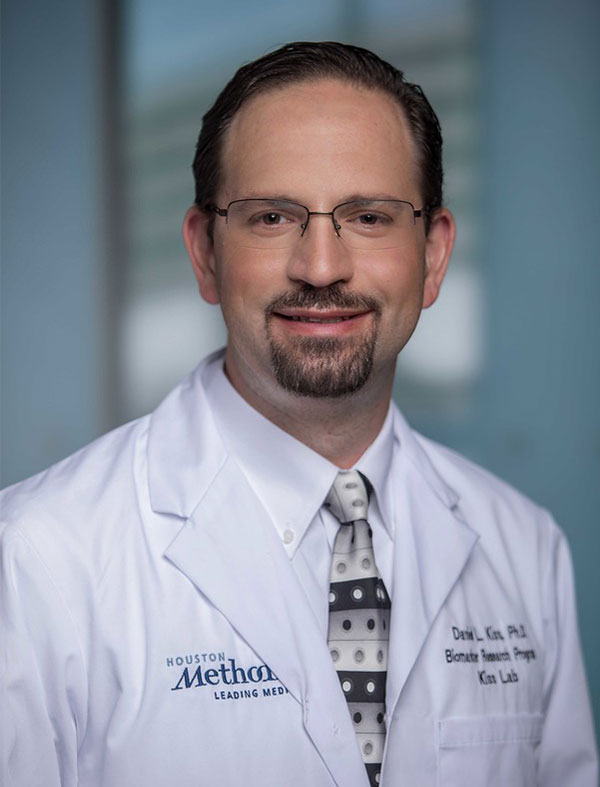 Daniel Kiss, PhD
Dr. Daniel L. Kiss is an Assistant Professor in the Department of Cardiovascular Sciences and a member of the RNA Therapeutics Program at the Houston Methodist Research Institute (HMRI) in Houston, Texas.  Dr. Kiss is also an Associate Research Member of the Houston Methodist Cancer Center and holds an appointment as an Assistant Professor of Molecular Biology in Medicine at Weill Cornell Medical College.
Dr. Kiss completed his doctoral and postdoctoral training at institutions with strong RNA biology programs.  He earned his Ph.D. in Molecular Biology and Microbiology from Case Western Reserve University in 2010, where he was part of the Center for RNA molecular Biology (now The Center for RNA Science and Therapeutics).  His doctoral work focused on how the RNA exosome, which is the predominant RNA degradation machine for mammalian cells, was regulated and functioned in RNA processing and turnover.  He then moved to The Ohio State University for his postdoctoral research where he was part of The Center for RNA Biology.  Under the supervision of Dr. Daniel Schoenberg, he earned two separate postdoctoral fellowships focusing on his cytoplasmic capping research.  He continues his focus on cytoplasmic capping of RNAs at the HMRI.
As an independent principal investigator, Dr. Kiss contributes to the broader scientific community.  He's served as a peer reviewer for multiple journals, participates in an NIH study Section, is an active member of multiple scientific societies related to his research, and is committed to outreach efforts to raise awareness and interest in biomedical research.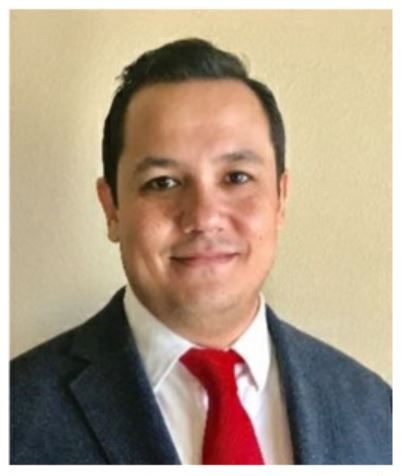 Francisco Altamirano, PhD
Francisco Altamirano Ph.D. is an Assistant Professor at Houston Methodist Research Institute and the Weill Cornell Medical College.
Dr. Altamirano received his Ph.D. degree in Biomedical Sciences from the University of Chile and did his postdoctoral training at UC Davis and then UT Southwestern. He has extensive experience studying the molecular mechanisms that drive striated muscle pathology.
Recently, Dr. Altamirano received a Career Development Award from the American Heart Association to continue his independent research. In 2020, as a new assistant professor, he started his lab at Houston Methodist Research Institute in Houston, aiming to uncover the role of Polycystin-1 in cardiovascular function and electrical remodeling. His research focused on understanding how mutations in the gene PKD1 affect cardiac function. PKD1 encodes for Polycystin-1, a protein mutated in autosomal dominant polycystic kidney disease (ADPKD). Dr. Altamirano made the unexpected discovery that polycystin-1 (PC1) governs multiple voltage-gated potassium channels in cardiomyocytes, thereby affecting membrane repolarization and shaping cardiomyocyte action potential and cardiac function.
Ruli Gao, PhD
The Gao laboratory has significant contributions in delineating tumor evolution using single cell DNA and RNA sequencing technologies.  Dr. Gao and colleagues developed the punctuated copy number evolution model in primary triple-negative breast cancer challenging the Darwinian Gradualism. They proposed a bi-mode chemoresistance evolution model where adaptive selection of genotypes and inductive reprogramming of phenotypes are activated in parallel in triple-negative breast cancer patients.  They also developed a nanogrid single nuclear RNA sequencing method that opened the avenue of analyzing single cell transcriptomes from archival frozen tissue samples.  Moving forward, her research is focusing on developing novel computational tools to integrate single cell multi-omics and establishing new experimental pipelines to perform third generation of single cell long read and spatial sequencing to unveil both somatic and mosaic genetic abnormalities that underly human cancers, neurodegenerative disorders and heart diseases.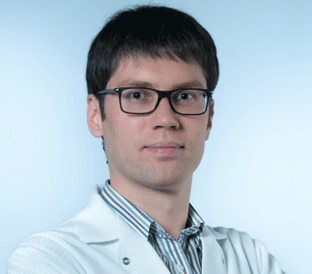 Roman Sukhovershin, MD, PhD
Dr. Sukhovershin leads RNAcore in its daily operations. RNAcore's mission is to support fundamental and translational research, as well as clinical trials, to enable the development of RNA therapeutics in fields that include regenerative medicine, cardiovascular science, nanomedicine, and cancer immunotherapies, among many others. RNA constructs generated at research-grade are appropriate for use in the discovery and proof-of-principle stages. In order to support the subsequent stages of translational development of potential therapeutics, RNAcore has established a quality control program that satisfies the requirements for IND-enabling studies. It also has the capacity to manufacture GMP-grade RNA products in house for use in Phase I/II clinical trials. RNAcore offers expertise in (1) the design and production of novel mRNA constructs; (2) understanding how to apply these constructs to answer specific scientific questions; (3) setting a path for successful translation of mRNA-based discoveries into clinically-relevant therapies, which can result in the generation and potential commercialization of intellectual property. The proprietary manufacturing and quality control process established by RNAcore was licensed to VGXI Inc., an industry leading gene therapeutics contract manufacturer, to allow supporting RNA products from the proof-of-principle in vitro studies to commercialization and clinical use. Together with Dr. Cooke and internal collaborators from RNA biology, nanomedicine, and bioinformatics groups, Dr. Sukhovershin is committed to develop hospital-based RNA therapeutics program which would make Houston Methodist a destination hospital for RNA therapies.
Shu Meng, MD, PhD
Shu Meng obtained her MD and MS in Medical Genetics from Sun Yat-sen University School of Medicine in China. She then earned her PhD in Pharmacology from the Pharmacology Department and Cardiovascular Research Center of Temple University School of Medicine under the supervision of Dr. Hong Wang. During her PhD studies, she demonstrated that hyperhomocysteinemia, a cardiovascular risk factor, accelerates thrombosis though ICAM-1 dependent endothelial activation though DNA hypomethylation mechanism. Shu Meng joined Dr. Cooke's lab as a postdoctoral fellow in 2013 to work on the transdifferentiation of fibroblasts into functional endothelial cells using chemical entity based methods. She is particularly interested in using small molecules as a therapeutic approach to reprogram and generate healthy endothelial cells in vivo. She is also involved in characterizing several transcription factors and their role in endothelial development. In her spare time, Shu enjoys to listen to music, travel and spend time with her family.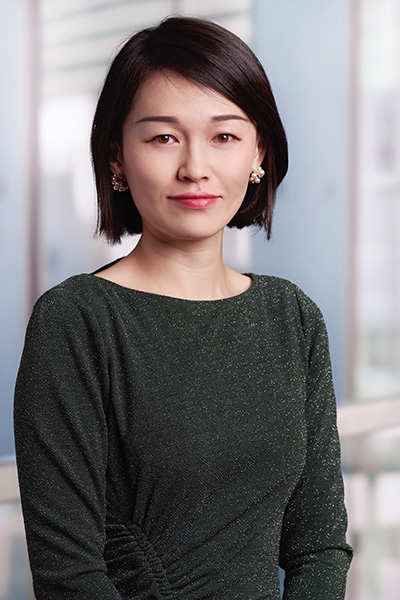 Li Lai, PhD
Dr. Li Lai received her PhD Degree in 2013 from East China Normal University in Shanghai, China. During her PhD period, she studied physiological and pathological angiogenesis by using animal models, which leads to many discoveries of anti- tumor angiogenesis small compounds and mechanisms underlying. Since 2011 and during her last two years of her PhD period, she joint Texas A&M Health Science Center in Houston as a visiting scholar, where she moved on to study the functions of G-protein coupled receptor LGR4 in mammary gland development, breast cancer and retinal development. After that, she joint Dr. Cooke's group since 2014 and has been working on the regulation of metabolism on transdifferentiation from fibroblast to endothelial cell.
Lili Zhang, MD, PhD
Lili Zhang obtained her MD and PhD in Ophthalmology at Qingdao University Medical College, China. She then commenced her postdoctoral training in the Ocular Surface Center at the Baylor College of Medicine and then in the Inflammation and Epigenetics Center at HMRI. She is extensively trained in cell differentiation and cancer biology, with specific training and expertise in exploring epigenetic regulation mechanism in those biological phenomena. Dr. Zhang's current research interest mainly focused on epigenetic regulation of endothelial cell identity in vasculogenesis and angiogenesis.